Chest Binder: NYTC Long Binder
If you're on the hunt for an FTM Chest Binder, search no more. Introducing the NYTC Long Binder.
Price: $38.00
Fit: I bought a Large, it fits like my old Large binder
Comfort: 9/10
Jump Test: Approved!
Visible Lines Through T-Shirt Test: Approved
Overall: If you're hesitating to buy this binder, don't. I'm in Love.
NYTC Long Chest Binder
I have had the hardest time finding a binder to conceal my chest properly. I'm not a small guy and my chest is a little larger than average.
The binder I'm using now is made out of itchy mesh material making me feel like it was designed by someone who has never worn a binder all day or ever, period.
I did opt out for a cheaper binder when I made the purchase a few months ago and I am definitely reminded of that every day.
This old binder does its job to a point but there's always a noticeable bump in my chest area and I can't help but feel self-conscious.
Though, seeing my reflection without binding breaks my heart and I just honestly can't wait until top surgery.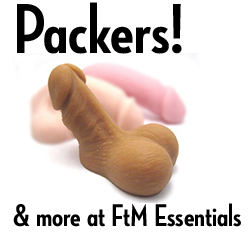 Awaiting my package from FTM Essentials
It's frustrating because I play a lot of sports and the jumping movement sparks the evil Gender Dysphoria to no end.
I go home after the game thinking about if anyone noticed my chest as opposed to how the game went. A reminder every second that I'm transgender, causing a ping pong battle in my head. The gender I was assigned at birth VS Who I really am.
I've heard great things about the NYTC Long Binder From Ftm Essentials. Ftm Essentials is a good brand altogether. They are a company created by trans and have a huge following making me feel more comfortable purchasing their products.
This is my first purchase from Ftm Essentials and I'm very excited to see how it goes.
***UPDATE***
It Has Arrived!
It actually shipped a lot faster than I expected. The package arrived in less than a week! Go FTM essentials!
Out of the box, this FTM Chest Binder already has my heart. I can't believe how soft it is!
I'm not the type to geek out but, I'm kind of geeking out. I can't wait to put this binder on and test it out.
Day 1 Using NYTC Long Binder From Ftm Essentials
I love it already! Since this is my first purchase from Ftm Essentials, though I've read so many great reviews on their products, I was hesitant ( I got trust issues).
As soon as I opened the box I felt a sense of relief and couldn't wait to try it on. It fit perfectly!
My other binder is a size large so I ordered a large from Ftm Essentials and it fit flawlessly, so thankful. You can tell this binder was created and designed by real FTM trans guys who just 'GET IT'.
Overall
Wearing this binder last night to basketball practice and am I ever impressed! I haven't had this much confidence in… I can't even remember.
When I jumped in the air my whole body jumped together, no awkward moves from gravity throwing my chest in the opposite direction. Also, since this is a long binder there were no visible lines through my shirt which is a big deal for me.
I don't feel the slightest self-conscious wearing this binder and everyone I've conversed with has used the proper pronouns all on their own. No mistakes!
A HUGE Thank You to FTM Essentials for creating this amazing product. Maybe I cant have top surgery right now but, this is pretty damn close.
***UPDATE 2***
6 Months Using the NYTC Long Binder From Ftm Essentials
The NYTC Long binder has really held up to its end of the bargain. I do not regret a thing about this purchase.
Currently, I only have 2 binders and I switch up between the 2 of them, basically, this binder has been worn a lot in 6 months!
The seems are all still intact and other than sweat marks (since I chose a white binder) this binder is showing no signs of wear and tear.
I highly recommend this binder to anyone looking for a long-lasting binder that won't break the bank. Paired with my new classic packer I'm really feeling the Gender Euphoria.
Please follow, share and like us so we can help more people